Office vacancy rates continued to decline in most major U.S. markets during Q4 2013, based on preliminary data from CBRE Group, Inc.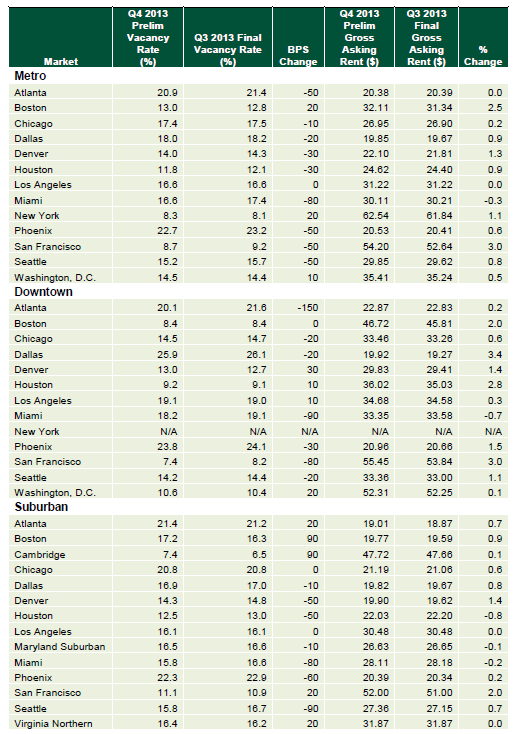 Nine of the 13 largest markets showed lower office vacancy, and 11 of the 13 markets saw higher average asking rents. Miami experienced the largest quarter-over-quarter decline in office vacancy of all the major U.S. markets, shedding 80 bps to arrive at 16.6% – the lowest since 2010.* The U.S. industrial market also continued to show improvement in Q4 2013, according to CBRE, as eight of the 12 largest industrial markets had lower vacancy, fueled by demand from third-party logistic companies, the food service sector, home construction and manufacturing. Miami held its position as the third-strongest industrial market in the U.S., with an availability rate of 7.8%.  Roughly 3.5 million square feet of industrial space in Miami was absorbed in 2013.  
"The steady recovery of the U.S. office market continues. As economic activity improves,  investors have had an opportunity to increase rents in most markets. The U.S. industrial market offers particular opportunity for investors seeking to capitalize on improving international trade and a resilient domestic consumer," said Brook Scott, CBRE's Interim Head of Research, Americas.
"The Q4 2013 results for Miami's office market are very encouraging," added Mary Jo Eaton, Executive Managing Director, CBRE Florida.
"While office has lagged other markets during the recovery, we are finally beginning to see signs of positive growth in this sector and a return to equilibrium that places landlords and tenants on equal footing."  
Office
Demand from technology companies led to a 50 basis point (bps) decline in vacancy rates in both San Francisco and Seattle, which reported 8.7% and 15.2% vacancy rates, respectively. A lack of new construction, combined with more office-using employment, contributed to 50 bps vacancy declines in Phoenix and Atlanta. Average office asking rents increased in 11 of the 13 U.S. metro office markets, and concessions have held steady overall. San Francisco led the country with a 3.0% increase in average asking rents, followed by Boston with a 2.5% increase, as space options diminished in both markets. Houston and Washington, D.C. reported significant deliveries during the quarter, at nearly 0.8 million sq. ft. and 1.5 million sq. ft., respectively.   
Industrial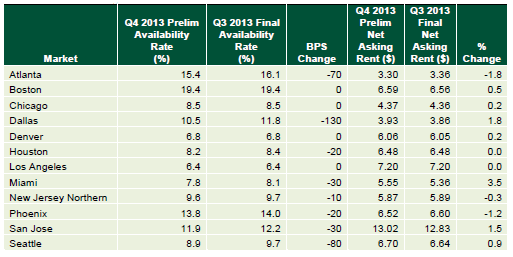 The U.S. industrial market continued to improve in Q4 2013, with quarter-over-quarter availability** rates decreasing in eight of the 12 markets. The largest availability rate decline was in Dallas, with a 130 bps drop to 10.5%, followed by Atlanta, down 70 bps to 15.4%. Demand in Dallas was mainly from third party logistic companies and e-commerce related companies, and demand in Atlanta was driven by third party logistic companies, automotive suppliers, and housing-related companies.  These market improvements are consistent with recent signs of strengthening industrial production, reflected in higher automotive purchases and overall consumer spending. While industrial new construction activity has been low by historical standards throughout the recovery cycle, the improving fundamentals have sparked new construction activity in most of the major markets. In Houston, 3.4 million sq. ft. of new space was delivered in Q4 2013, and an additional 7.8 million sq. ft. is under construction.
Source: CBRE Research, Q4 2013.  * Data is preliminary pending possible revision at end of quarter. **Availability is space that is actively being marketed and available for tenant build-out within 12 months.